Live Blackjack With Surrender Option
We have been getting a fair bit of e-mails with questions about whether there are any live blackjack games with a surrender option and when, if ever, should it be utilized. The truth is that most providers do not offer it and for a good reason – when properly used this option can help you decrease the house edge by approximately 0.10%.
As you can learn in our comparison article, the only live dealer blackjack provider to offer a surrender option is Ezugi. We'll review their surrender option later on in the article, but first lets explain what surrendering in blackjack is all about.
Play Live Blackjack With Surrender At 7Bit Casino
Live Dealer Casinos
Bonus:
Gaming:
Play now:
$/€ 100
Live Casino, Slots (USA Friendly)
7Bit Casino
Each Casino reserves the right to cancel or change promotions at any time. Please refer to each Casino's T&Cs page for full details. New Customer Only. 18+. Please play responsibly.
How It Works
Surrendering means giving up half of your initial stake and recouping the other one. Whenever the risk of ruin leads to losing more than half of your wager long-term surrender is a wise move. Many players seem to think that only "chickens" surrender and it's not smart to do so, but the math tells us a different story.
Imagine a scenario where you have a hard 15 and the dealer holds a ten. Situations like these occur a lot and it's doubtful that you would be too optimistic about winning the hand. You will go over 21 approximately 65% of the time in this scenario and even when you hit a card that is not a six, the dealer can still beat you. The above is a perfect example for when surrender should be used. It's simply the smart thing to do.
Early Surrender vs Late Surrender
It's hard to find a game that offers surrender in the first place, but you will almost never see one that offers early surrender. The key difference between these is the timing rule implementation:
early surrender allows you to recoup half of your stake before dealer peaks for blackjack on an ace or a ten
late surrender is offered after the dealer peaks for blackjack on an ace and ten as their starting cards
We have seen a variation that does not fall in either of two categories outlined above. It offered a chance to surrender against a ten, but when dealer had an ace the option was disabled altogether.
When To Use It?
Whenever you are likely to lose 75% of the time or more is when surrendering becomes the correct play. Here are the basics on what hands should be surrendered when playing a standard 8 deck game where the dealer does not hit soft 17.
Surrender hard 16 when the dealer holds a nine, ten or an ace.
Surrender hard 15 when the dealer holds a ten.
In game variations where the dealer hits on soft 17, you should add some additional surrender plays.
Surender hard 17 against a dealers ace – yes, seventeen and you have to surrender.
Surrender two eights (16) against a dealers ace.
Strategy Card For Blackjack Surrender Games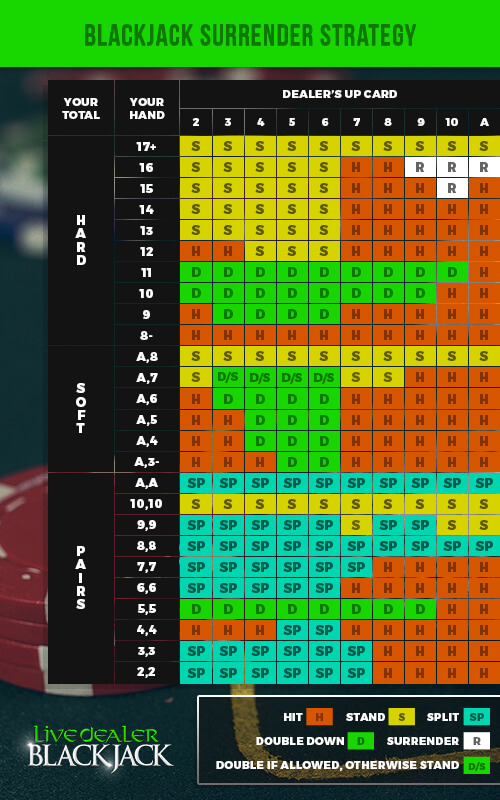 Ezugi Surrender Review
Ezugi provides a sophisticated live dealer solution to a few dozen casinos around the world. Most of the sites they work with are accepting US players. They also provide software to several bitcoin casinos, such as 7Bit Casino.
They offer what is known as an early surrender and you can recoup half of your wager regardless of what the first card is for the dealer. They claim that their live blackjack has a house edge of 0.21% which is by far the lowest we have seen.