Bethard Scores Major Goal, Securing Football Mega Star Zlatan Ibrahimović As Ambassador & Partner!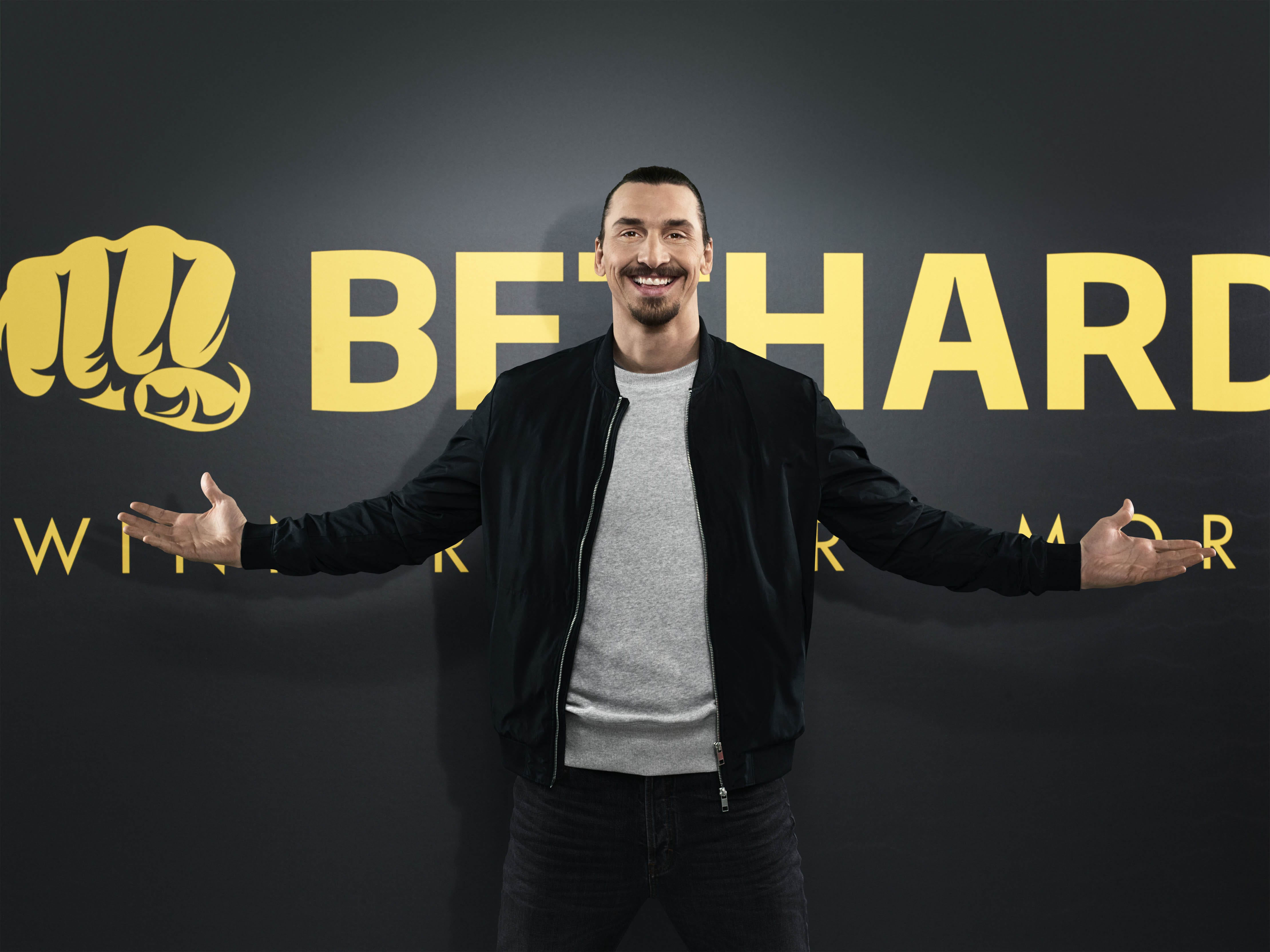 Bethard Scores Mega Star Zlatan Ibrahimović As Ambassador & Partner!
Zlatan Ibrahimović, mega star football player, has announced today that he's taking on a whole new kind of project!
That being?
Well, this exciting and exclusive news brings us into the understanding that Zlatan has gone into partnership with the Swedish-owned betting company Bethard.
Bethard's incredible online casino is designed to perfection and is both instantly recognizable and stunning in equal measure, but it's their methodology which really captured Zlatan's heart.
To clarify all this, Bethard have also announced today, that they've both sparked up a friendship and signed up for an official partnership with one of the most admired football stars of our time!
Zlatan Ibrahimović, who is largely regarded as Sweden's all-time greatest football player, is one of the world's best footballing talents of all-time, and, practically overflowing with self-confidence, he's not too frightened to show you what he's made of either.
Zlatan's – Let's do this – style, winner's attitude, which runs parallel with his undeniably proud nature, and the swagger which inevitably arises from those things, well, these things only add gravity to this winning partnership!
Bethard's two main slogans ''Winners Dare More'' and ''Dare to Do'', at their core, both share that same dynamic, winner's mentality, which has helped to shape and grow Zlatan into the megastar that he is now!
Erik Skarp, founder of Bethard, trusts implicitly that this great partnership with Ibrahimović, is set to send the whole company spiraling up to the next level, and in part safeguard it's transition into becoming a global sports betting empire, as it always should have been.
Bethard Casino Capture A Star
Bethard, have always held plenty of store in that heavily over used phrase 'Team Spirit', indeed, 'Team Spirit' runs through the heart of everything they do!
This was one of the key values which won Bethard the 'Great Place to Work' award at the 2018 International Gaming Awards.
With a very dedicated team, working diligently off scene, Bethard believe that everything starts with that 'Team Spirit'.
As the saying goes ''the team who plays together, stays together'' and when that team is also highly creative, motivated and dedicated to the rest of the team, then you know you're on to a winning formula right from the start.
This winning formula is sure to be a key factor in how they captured and kept hold of the ever-elusive Zlatan Ibrahimović's attentions and interest.
In an exclusive interview, Skarp made it clear that:
"Zlatan is our partner and provided that we do great things together it will hopefully last forever.
He is not our poster boy, but he will be with us and develop the company, above all, into a brand that people want to associate with."
This spectacular and already incredibly popular online casino, usually have new players lining up around the block trying to sign up though, so it's not usually any kind of issue.
Skarp went on to say that "Today there are hundreds of ambassadors for different gaming companies, which means it's hard to differentiate which person is associated with a brand.''
''We wanted to do something different, by not following the crowd''.
''There was only one stand-out individual we considered to be the world's biggest winner''. ''One who dared take the challenge, and that was Zlatan".
Skarp also shared his memories of how Zlatan first responded after he joined the Bethard team. He claims that Zlatan said "I used to win, I won a lot. I'm looking forward to winning with you at Bethard. Bethard is the only betting company that managed to catch my attention. You want to know why? Because I share the idea that winners dare more".
Bearing in mind Zlatan's illusive and at times somewhat evasive history when it comes to making partnerships, this really appears to be a match made in paradise.
It also appears to be a good, solid match, made between two equal sides, both of whom seem to be reading from the same page. Which we're sure we can agree is a rare and wonderful thing.
Bethard's Tasty Welcome Bonus
Want to discover more about this truly epic online casino?
Then we've got happy news for you too!
As, as a new player to sign up at Bethard you're in luck, thanks to Bethard's wonder filled Welcome Offer!
Do you want even more good news?
UK Players Rejoice!!
Bethard is due to go live in the UK in the very near future!
What does this mean?
It means that this juicy Bonus will soon be within reach for all our eager Brits too!
So, go sign up and when you make your 1st deposit at Bethard you can seriously boost your bankroll.
Fancy a 200% Cash Match Deposit Bonus up to $200, topped up with a tremendous 25 Wager Free Spins for use on the web's most popular slot game: Starburst!
Yeah, we though so!
Well then, go sign up and make your 1st deposit of just $25 or more and – BOOM!
It's broken down as follows:
Sign up at Bethard Online Casino
Get a 200% Casino Match Deposit Bonus of up to $200
PLUS a tasty 25 Wager Free Spins for epic Slot: Starburst
T&Cs Apply. 18+
Just do the following: 
Create your online player account with Bethard Casino
Then – Pick your favored CASINO BONUS, whilst making your 1st deposit
Then – Go enjoy yourself playing through your Bonus and Wager Free Spins!
Go Play at Bethard Casino Today!
All deposit Bonus amounts and/or Spins must follow the bonus wagering requirements as stated before withdrawal. The maximum amount of bonus is £200. All deposit bonuses may be on an opt-in basis, not all games contribute, and minimum deposit requirements must have been met. For full participation details refer to Bethard's Bonus T&Cs.
Don't miss another minute of the action!
Follow legend Zlatan Ibrahimović's fine example and sign up to be a part of Bethard Casino today!
March 29, 2018 - Offer valid as of date published. T&Cs apply.