Immerse Yourself in Evolution Gaming's Live Blackjack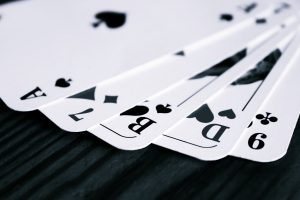 If you've ever played a live casino game at an online casino then there's an incredibly high chance that you've played a game by Evolution Gaming. This is because they're the industry leader when it comes to live casino games and you can find their products at practically any casino that offers live casino games in Europe, as well as further afield, for example, in Canada.
They've driven to the front of the pack by providing a comprehensive live casino selection, paying particular attention to one of the most popular games around, blackjack! Evolution Gaming's live blackjack service is hands down one of our favourites thanks to its skillful dealers, flawless streams, and all its other great features.
Here's a rundown of what their service offers.
Evolution Gaming's Classic Blackjack
At their classic live blackjack tables, up to 7 players can sit around a table and play at one time in the hunt for 21. Their interface is really easy to use and you'll come to grips with it within a few minutes even if you've never played live casino games before, with all the action unfolding on a full-screen video.
At all their live blackjack tables, you'll have the options for Insurance, to Double Down or to Split Pairs, with side bets like, 21+3 and Perfect Pairs also available if you're feeling lucky. Another great feature is the games "Pre-Decision" feature, which gives you the option to Hit, Stand, Double Down or Split at the same time as the first player on the table. This ensures the games run quickly, with less waiting around during rounds.
Evolution Gaming's Blackjack Party
If you're looking for a more chilled out way to play then you should try out their Evolution Gaming's Blackjack Party feature. This has much lower stakes and a more funky vibe, with music in the background and specially trained hosts which give you guidance and advice as you play. The concept is to make blackjack more fun and player-orientated, but Blackjack Party still offers all the same in-play options and side bets available in the classic versions of blackjack that Evolution Gaming offer.
Evolution Gaming's Bet Behind
Don't think you have the skills to play live just yet, or simply want to sit back and watch the action unfold? Then you can enjoy Evolutions Gaming's Bet Behind feature, which allows you to bet on any of the players sat at the table and let them win money for you.
There will be indicators in the form of medals that show if a player is on a winning streak and how many rounds he has won, so if you see a player is winning then you can ride on his wave of luck! There's no limit as to how many players you can bet behind either, so feel free to bet on as many as you like.
If you fancy throwing your hat into the ring at any time, simply click "Sit Here" when a seat becomes available and you can play yourself.
As you can see, Evolution Gaming's Blackjack is a one-stop-shop for all kinds of players.
T&Cs Apply. 18+
September 28, 2018 - Offer valid as of date published. T&Cs apply.