PlayTech Live Blackjack Review

PlayTech is a large, publicly traded company offering various solutions to hundreds of iGaming operators. The company has ties with just about all big bookmakers operating in the UK including Bet365, Paddy Power and Ladbrokes. They supply complete casino, betting and poker solutions to many companies, but also have their own product in the growing live dealer gaming marketplace and that's exactly what we are going to take a look at.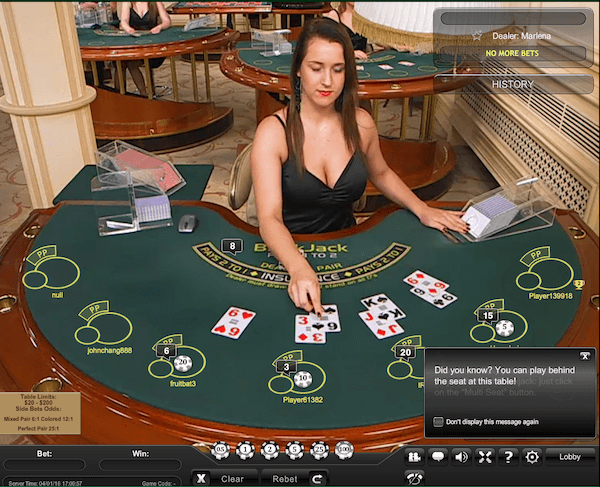 Table Selection
The main differentiator for their live blackjack is the ability to offer their players a choice between asian and european dealers. We haven't seen any other provider have anything similar to that. Games are streamed out of studious in Riga and Cambodia.
There are plenty of tables to choose from and it's unlikely that You will have shortage of ones to choose from. When tested at our favourite PlayTech casino Bet365, there were 22 live dealer blackjack games available.
Drawing Rules
Even though there are many blackjack tables available, they all have the same set of rules. PlayTech's games are fairly competitive, with house edge of 0.49% that is right around the industry averages. You can only double on 9 to 11 and no re-splits are allowed. Doubling after a split is possible though.
Players are welcome to play on as many boxes, as they please. This is done by either occupying them as the main player or by betting behind. Note that by betting behind You will not be controlling Your own destiny, since the main player always calls the shots.
Perfect Pairs Side Bet
Just like Evolution Gaming, PlayTech have also implemented the popular perfect pairs side bet in all of their tables. You can wager as little as $1 on these and earn up to 25 to 1 payout. Here's how it works:
Mixed pair will get You a 6 to 1 payout. This means whenever You get two cards that are the same number or letter, You'll win. They don't have to be the same suit or colour.
Pairs that are coloured in the same colour (lets say black) will earn You a 12 to 1 payout.
Perfect pairs, which means that the cards are of the exact same value and suit, will earn the aforementioned 25 to 1 payout.
Maximum bet on perfect pairs is $200, so there's potential for a nice $5k payday!
Stream Quality
The quality of video is up to par with other top providers, namely Net Entertainment and MicroGaming, but maybe one step behind Evolution Gaming, who are in front of everyone at the moment. Don't get us wrong, You still get a great playing experience and a real brick & mortar casino stream! It's just not HD quality, but they will surely get there in some time too.
Mobile Play
Users of iPad and Android tablets are in luck, since Bet365 offers live dealer blackjack for both of these. Smartphones are currently not supported though.
Playing Multiple Tables
We've never seen this before, but PlayTech does offer it – the ability to play multiple live blackjack tables at once, in one window. While it's fairly convenient, we found it to be a little too much action, when playing three tables at the same time.
It's worth noting that You can also mix it up with different games, such as blackjack, roulette and baccarat or just about any combination You'd like.
Casinos Offering It
Bet365 is our favorite PlayTech powered site out there and also one of the biggest online gambling sites in the world. Every player in the UK knows the brand name and that's slowly spreading to Europe too.
They offer live dealer games with high betting limits and You also get a chance to earn loyalty points that can be used to get some cash-back later on. There's a lot more to this brand than just that, so make sure You read our review of them.