Blackjack Switch
Blackjack is a simple game of cards, with interesting variations, that can be played online. Among them is Blackjack Switch, which can be a lot of fun when you are good at splitting the pair and enjoying it.
This variant of blackjack involves switching or exchanging two cards between different hands of a single player, which at one point in time was considered as cheating.
In many ways, this variant is similar to the classic blackjack; except that it lets you create more than one hand to increase your chances of winning.
Although, this blackjack variant is seldom found in real-life casinos outside of Vegas, at online casinos it is a completely different story and you can play Blackjack Switch online free at numerous casinos!
This is great, as it is a much more exciting to play with the extra element, as it gives you both heightened risk and suspense when compared to the classic version.
Of course, it can see you maximise profits, but can also see you lose more if you aren't careful, but don't fear, as we are here to ensure when you are playing blackjack switch online.  After reading our guide, you will know the rules, as well as the optimal blackjack switch strategy to ensure that the prior happens.
Read our guide to ensure that when you play blackjack switch online, you have the right tools to win every time!
Watch a tutorial here. Credit: Casinoroama
Page Navigation
What is Blackjack Switching?
In this version of blackjack, players are dealt two hands of two cards each, as they would do you if you were playing Multi-hand.
The difference being that you can switch the two second dealt cards of each hand to form a better hand.
This means that you will be holding at least one hand that was stronger than the initial two cards dealt. In the best-case scenario, you may even be holding two sets of cards that are both very strong and so you can hedge your bets twice over!
So, if you look at your two hands and realize neither stand a healthy chance of winning but know that a combination of both would make the perfect pair, then you can do just that.
Essentially, you are mixing and matching your two hands, to form a new two that suit you and that help you to cash in!
Here is a quick example:
You are dealt two hands – A/3 and 7/10-. Blackjack Switch allows you to switch the cards 3 and 10 to create two separate hands of A/10 and 7/3. In this scenario, you are now in the perfect position to hit on the next hand on both hands.
In some cases, if splitting is allowed, these cards can then also be re-split to make up to 4 hands.
Sounds pretty easy, right?
However, there is a slight catch in these type of games. To even the playing field between dealer and player, at 22 the dealer is not busted, but instead, this scenario results in a push against all non-busted hands. As well as this, blackjack pays even money rather than 3:2.
Blackjack Switch Rules
The game is generally played with 6 to 8 decks of cards, with each player getting two hands. To play this variant, here are the rules you need to remember.
All cards dealt should face up.
Players should make the same amount of bet on each hand.
Only the second dealt cards can be switched.
Players can double down any two cards, even after splitting them.
In this variant, a dealer usually hits in case of soft 17 and can peek for blackjack if the face-up card is ten or ace.
The dealer can push up to 22 without getting busted, whereas a player cannot.
The dealers 22 is higher than the player's 21 unless it is a blackjack. However, a player's blackjack and a dealer's blackjack are equal.
If a player switches to make blackjack, it is considered as 21 and not blackjack.
There are different rules in different regions, but typically this is the rules played at most real-life casinos, as well as at casinos that offer Blackjack Switch online.
Blackjack Switch Strategy
Blackjack Switch has a house edge between 0.2% and 0.02%, so it is less risky and can be played by both professionals and amateurs.
Of course, the most important thing to know in Blackjack Switch is when you should switch the cards and when you should keep the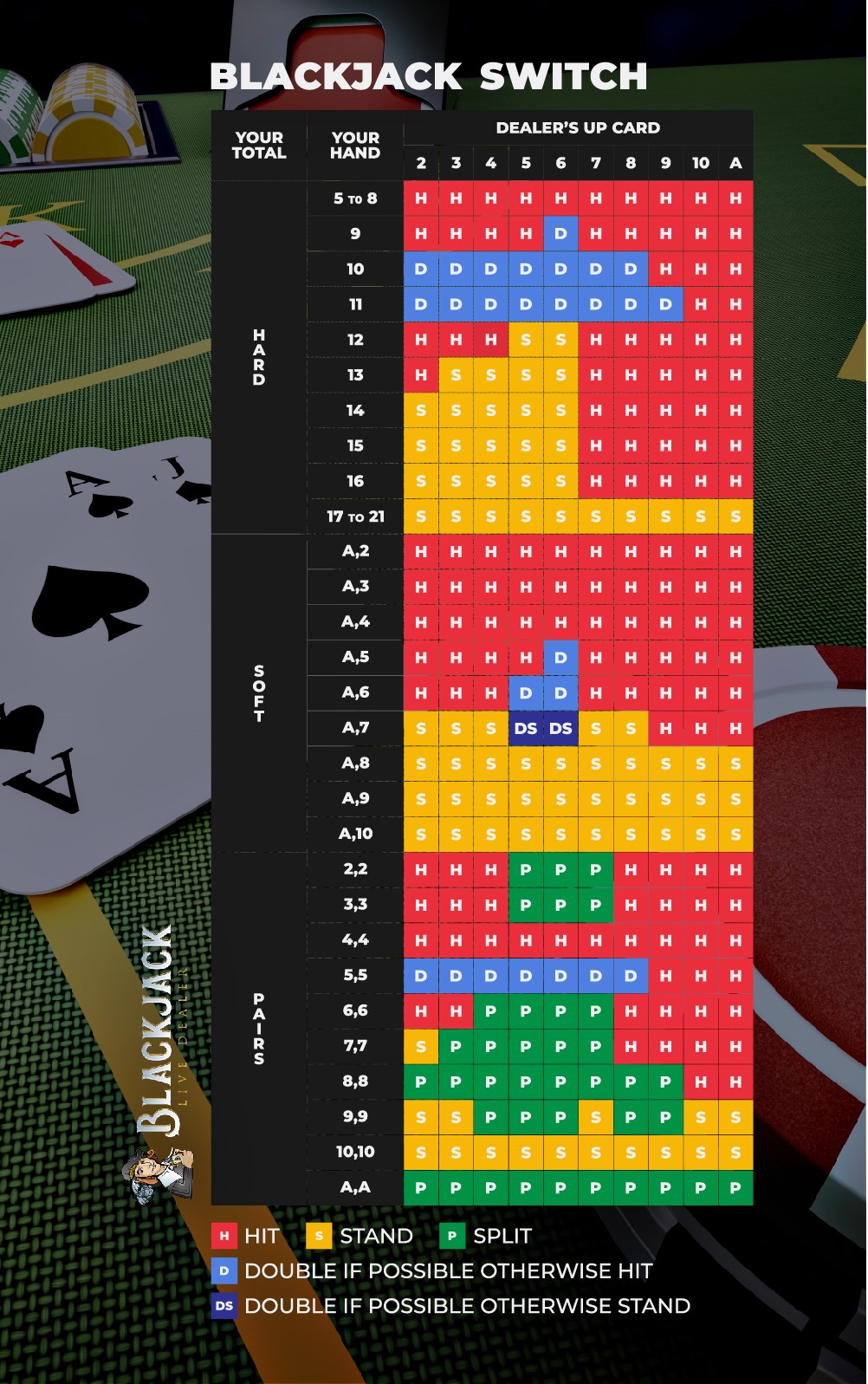 original  pairs.
The key thing, like it is with any variant of blackjack, is to learn the rules of thumb to ensure that you don't make a rash decision when utilizing the extra rule. It's easy to want to make the most of the extra option you have, but it must be used wisely in order to maximise your wins.
This variant of blackjack can easily win you money more consistently than classic blackjack, provided you know when and how to switch cards. Although it may seem simple, care should be taken to use this strategy so that your odds of winning go up and not down.
You can use our chart, sometimes referred to as cheat sheet, on this page for specific details about how and when to use the switch option in your blackjack games.
Although you can't use the chart in a real-life casino, if you are playing blackjack switch online then you can keep it to hand and use it as a reference while you get used to the dynamic of the game.
After you feel comfortable enough with the contents of the chart, you can take off the training wheels and go for gold yourself.  If you are new to the game, then we definitely suggest using it as a starting point. It is worth considering, you may find that you find different combinations work for you, it is not the bible for blackjack switch, but generally, it demonstrates the most efficient way of using the rule and making it work to your advantage more often that not.
Like any type of blackjack, generally, it will depend on the what the dealer has as an up card as to whether or not you should implement it. If the dealer has a strong up card, i.e. anything between 7-Ace, then it should definitely be considered if both your hands are looking weak.
While, if a card has between a 3-6, then as it is considered weak you should hold your horses a bit and weigh up what is on your card, as regardless of what you are holding, you are still likely to give him a good run with both.
As a rule of thumb, we wouldn't recommend splitting or doubling down in this game, as it usually isn't worth it, but you may want to take more risks when it comes to hitting at the risk of going bust. However, again, you might find that these suggestions don't suit your player criteria.
Although this is may sound like fairly fundamental knowledge of the game and strategy, the truth is, the concept behind it is really simple and so thus, there is very little to teach in the way of strategy on the subject.
This is may be due to the fact the game is fairly new in casino standards, strategies can take years to develop from trial and error and people haven't really cracked the code yet. However, if you know what a good hand in Blackjack is, you are halfway there. You just need to try to form one, if possible two, hands that would be considered strong hands in the classic form of the game out of what you've got.
However, there is one strategy that has emerged online quite recently entitled the Cindy Liu Simply Switching Strategy. We have explained how it works below.
Cindy Liu Simple Switching Strategy
This is one of the most common and easy to use strategies in the game, and involves the possible hands being in this order of strength:
21
20
19
AA
11
10
9
18 or 8
88 with 2-8 Up
The aim of the game is effectively to make both the weaker and stronger hand as high as possible, in relation to the list of strong cards above. If you can get both hands to reach any of the numbers you see above so that you will be in the optimum position.
Naturally, the higher up the rank in the chart above both of your cards is improves your chances of taking away wins on both. However, if you have the option to heighten one to a high number in the rank, with the result that you will actually weaken the second, then it is still better to do this.
It is better to have one very strong hand than two moderate ones.
If neither hand can get in those top 9 positions, then your best bet is to go for these hands:
7 or 17
Any 12
Any 13
Any hand that should be split.
UNLESS:
You have an A,A + 3,8, as you should keep the aces together.
You have an A,A + 2,9,  as you should keep the aces together if the dealer has 2-6.
You have an A,A + 29, as you should keep the aces together.
Due to the simple nature of this strategy, and the fact that it requires you to memorize just 9 keys numbers, it removes the need to estimate every potential outcome. Overall, it means that if you use the strategy effectively, you will only make an error once out of every 18 hands played.
Choosing a Blackjack Switch Online Casino
To play Blackjack Switch on the internet, you should look for an online blackjack casino that offers this variant for real money. However, as the terms and conditions of blackjack variants differ from site to site, you should go through the rules of playing this version before investing any money. The best way to play this variant of blackjack is to select a site that offers free or trial games, in order for you to understand it better and to practice the strategies for winning real money. There are numerous sites out there where you can play Blackjack Switch online for free, but it depends on your geographical location.
These are just two of our top picks for the game, not just because of the fact they offer Blackjack Switch in their casinos, but also because they offer an all-encompassing service, with countless options for other games, services, and other bonuses!
Blackjack Switch Vs Blackjack
Blackjack Switch is so popular due to the extra element it provides its players.  Rather than sitting there playing round after round with just one hand that will determine winning or losing, it lets you take your fate into your own hands. For example, if you get dealt a bad hand in classic blackjack, it means the odds are against you. Whereas in Switch, if you get a bad hand, you can turn the game around by utilizing the rule.
This is perhaps why it so popular. However, there are numerous online blackjack variations out there. Due to this, I'm prone to think that people who play blackjack, just like to mix things up every now and then and try something new.
Of course, Classic Blackjack is great, but it is simple, and so to prolong their game-play and to spice things up, I think people enjoy the extra elements. However, of all the different choices for online blackjack, Switch is one of the best ways to maximize wins and adds the most excitement to the traditional game-play with ease.
History of Blackjack Switch
The birth of Blackjack Switch came in the early 2000's, when it's creator Geoff Hall, tired of being dealt two bad cards, decided to that Blackjack game-play would be improved if you could switch two cards between both hands to create better ones.
He demonstrated it first at the G2G Conference in Vegas in October 2000, and its first life implementation was just four months later in February 2001. Upon reflection, Hall added the "Push on 22" in 2003. This rule meant that blackjack switch now also had a factor that favored the house when before it just favored the player, this led to the game becoming more widely accepted. Nowadays, it is widely accepted in many casinos both in Las Vegas and further afield.
Interestingly, Blackjack Switch owes its origins in a way to card counting, as this was the practice Hall was undertaking at the time of its invention and which drove him to want a more rewarding experience from the game.
Summary
If you are looking for a new way to play blackjack online, then Switch is a super easy game to understand and get playing with.
The added perks it provides mean that when you play you're going to have a more thrilling time, plus if you do it right, you stand to win a lot more money than the conventional method.