Live Baccarat Online – Enjoy the Exclusive Game Online

Baccarat is a table game that has been around for hundreds of years. Baccarat was a favourite of James Bond in the original Ian Fleming novels, but the game is mysterious to most players because it is often reserved for high rollers.
Even though most casino players do not know anything about this game, the introduction of Live Baccarat online has made this the perfect time to get started. Live Baccarat is actually really easy to play and, since it is so fast-paced, get ready for it to become your new favorite casino game!
Despite people only having a limited knowledge about Baccarat, it is one of the most frequently found games at live dealer online casinos, after Live Dealer Blackjack, Roulette, and Poker. This means if you get good, it will open a whole load of casino's doors to you for playing at live dealer casinos.
Essentially, learning Live Dealer Baccarat is worthwhile, as, if you can add this final casino feather in your cap, it means you can join any casino in peace of mind that there is something to win money on. As well as this, it gives you an extra option to play at any point if you get bored of Live Dealer Blackjack.
Read on to get an overview of the rules, and then learn about playing Live Baccarat online for real money!
Page NavLive Baccarat Online – How to Play
One of the main perks of Live Baccarat online is the fact that it is so easy to learn, which has made it popular with beginners and seasoned casino veterans alike. In fact, we'd go as far as saying it is predominantly enjoyed by high rollers, who want to play hard and fast.
In Its simplest form, the main objective of Baccarat is to reach, or get as close to, the value of 9.
The way it works is that Baccarat focuses on two separate hands of two playing cards. One hand is called the dealer's hand and the other is called the player hand.
These names are used to distinguish between the two, but you can bet on either side. Based on the value of the two hands, the croupier may deal a third card to either, both, or neither hand.
As a player, you have to start the game by betting on which Baccarat hand you expect to be worth the most, or you can even choose to bet on a tie. If you bet on either the player or dealer hand, then you are making an even money bet, but be aware that all winning dealer bets get charged a 5% commission.
Players who bet on a tie rarely win, but when they do, they get an impressive eight to one payout. The only catch is that the value of any given Baccarat hand is calculated in a unique way.
To figure out the value of a live Baccarat hand, you first need to understand card values in the game. Aces are equal to one, cards between two and nine are worth the number printed on them and tens and face cards are worth absolutely nothing, which you may find strange as these cards are usually the most beneficial when playing live dealer Blackjack.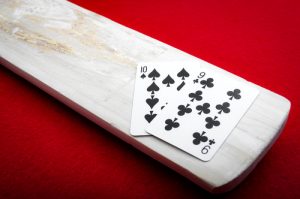 Add the value of the cards together and, if you have a single digit number, then that is the value of the hand. If you end up with a double-digit number, then you have to drop the first digit to find the value of the Baccarat hand.
For example, let's look at a hand that has a pair of eights. Eight plus eight is sixteen. Drop the first digit, and you are left with six as the hand's total value. Essentially, you minus ten from your hand if you exceed nine.
To win, the best possible hand is obviously a 9, then an eight and so on.
As you can see, it is a very simple game and apart from the fact that you have to reach a 9 and not 21, the game is very similar to Blackjack.
Live Baccarat Online Tips and Tricks
Although simple, Baccarat, like any other casino game, has certain strategies that will help to keep it profitable. However, they may not be what you'd expect from usual casino strategies, in that they are much more simple. But you shouldn't be concerned by this as it is a much simpler game than others, so naturally, the ways to win are equally as straightforward:
Deny the Tie – First and foremost, the payout on the odds might tempting on a Tie bet, but the reason the odds are like that is that it is hardly ever going to win. As such, it should still never be used if you are serious about winning money consistently.
Begin with Bankers Bet – Betting on the banker is universally agreed to be the best bet by most Baccarat players, especially when first sitting down at a live Baccarat table. This is due to the fact that they have very slightly better odds and are more likely to go on winning streaks.
Pick a side and stay – Whichever way you choose to put your initial bets down, stick to that. Switching every hand will almost certainly be a mistake. If you kick things off betting on the player, then commit to this side until they are on a streak.
Switch After Streaks – Ok, so you are midway through your game now and you may have chosen to pick the Bankers bet or gone out on a wing and gone for the player bet. Either way, if you are on a streak and a loss comes, then you may need to switch your betting, but not until after you have waited one go. Let the next hand be dealt without you betting, then whichever hand wins, you then choose that side and carry on as you were.
Don't Concern Yourself with Patterns – Forget card counting or any other sort of mathematical system here, as the odds in this game of winning are effectively 50/50. As such, it would be like trying to figure out an equation for flipping a coin. Although the banker has slightly better odds, it is only very slightly.
Don't Over-Do It – In Blackjack, the outcomes fluctuate as the game goes on and patience at a table can be rewarded, sadly in Baccarat this won't work. Due to the split odds that are in play, Baccarat is a game for a good time, not a long time. So, in Baccarat, even more so than in other games, you should walk away when the going is good. If you want to keep playing, switch tables, but playing at the same table for a long period will definitely see you lose more than you win.
Pay Attention to the Decks – In terms of decks, it is the same as live dealer blackjack, in that the fewer the decks the higher your chances of winning are, for obvious reasons. If the decks at a table are fewer in number, you will also be able to play longer at the table.
Keep an Eye on Your Betting – As it's essentially 50/50 betting, you should rarely increase your bet, as you have little to no idea whether the deck is hot for your chosen side or not. You should instead, bet consistently the same way. Unless it appears, and you are sure you are on a streak, then you may want to move things up a bit, but only for a short while. The second you lose a higher stake then resort back. Bank management is key to having the longest and most enjoyable experience and as always, NEVER bet more than you can afford to lose!
Mini Baccarat Online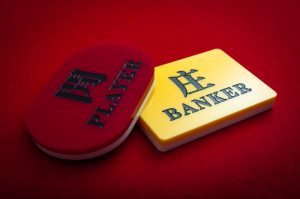 As the name indicates, this is quite literally a smaller version of Baccarat, with lower limits and even a smaller table. Everything else is essentially the same, except for the fact that you do not pick up the cards and it is all handled by the dealer. As a result, the gameplay is much, much faster, with a potential 40 hands played per hour.
This means that losing a lot of money on an unlucky streak can be done a lot quicker. Some players may argue that the reverse happens, but we would not actually recommend Mini Baccarat over the classic style for any long period of time. Although, if you want a quick leisurely game to kill a short period of time, then it might be worth playing for a few hands.
Playing in A Live Baccarat Game
There is nothing new about Live Baccarat Online. In the past, though, you had to play in a game that was determined by a computer. The games were at least supposed to be fair, but even if they were, playing with only a machine for company takes a lot of fun out of the game.
This is why online casinos have been starting to make the transition to live dealer Baccarat. These live games take advantage of new technology to give you a game with a real croupier that you can even chat with. Nothing else comes this close to delivering the thrill that was once limited to traditional casinos.
These Baccarat dealers have lots of experience and the games are often running in brick and mortar casinos. To bring the game to the Internet, the casinos just install simple webcams facing the dealer and the looking down at the Baccarat table. In the best online casinos, the cards in these games have larger print than normal to assist you in reading them on your screen.
It is a much more enthralling experience than virtual Baccarat, as it provides a similar sensation to playing in a real-life casino. It has a more personal touch and you can see a real person dealing the cards on authentic baize, so you can be assured the gameplay is fair. There are a vast amount of Live Dealer Baccarat games available online and it is an extremely popular offering by casinos, with many offering 2-6 tables as standard, including Mini-Baccarat.