Play BlackJack Mobile: Blackjack App for your Android or iPhone
Playing Blackjack Mobile is the best way to get a real brick & mortar casino experience.
The online casino industry has come a long way since its inception just before the turn of the new millennium. In this day and age, online casino players are always looking for more convenient ways to access their gaming and this is where the trend for mobile casino platforms came into being.
Mobile casinos are the pinnacle of the technological times we are living in and many players appreciate this feature as it makes online gaming possible from virtually anywhere. Whether you're at home on your sofa or stuck on a train in rush hour, you can experience all the thrills of online casinos at the tips of your fingers.

This technology started to spread back in 2008 and today it seems like an obvious addition to any site. Most casinos are now offering dedicated sections with blackjack app,
roulette, baccarat and poker available.
Page Navigation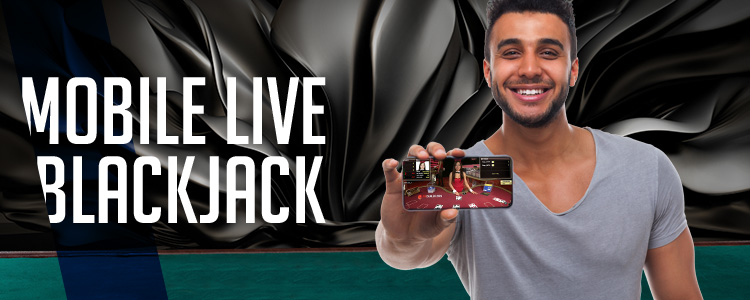 How to Play Mobile Blackjack
Playing blackjack from your mobile device is not only super easy but also a lot of fun!
Nowadays, nearly all online casinos may be accessed from your mobile device's web browser, with some also investing in creating a specific mobile casino app too.
To play games like blackjack from your smartphone or tablet, simply log on to your account from a browser like Safari or Chrome. You should also check iTunes or Google Play to see if an app is available, though the casino will usually notify players of this when signing in from a mobile browser.
Once logged in, simply locate your fave games and play your heart out…. just as you would from your desktop PC! The screen display may look a little different from smaller screens but in general, mobile casino games will keep the same rules and format.
Apps are convenient since they allow you to access all of an online casinos features in one place without having to search for the website from your browser every time.
However, accessing a casino from your mobile browser is sometimes more advantageous to players as there's no need for any downloading and using up more space on your device, as well as the plus of avoiding constant notifications or updates.
It really comes down to your personal preference as neither option is really better than the other; both have their own pros and cons so you get to play your way.
One thing's for sure; mobile casinos have become a commodity that online casino players are demanding. Operators who haven't made the step to migrate their offerings to a mobile platform should catch up quick or risk being snubbed in favour of their more updated counterparts.
Live Blackjack on Mobile Casinos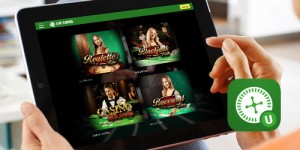 If you have never played live casino games we suggest going through our live blackjack comparison article. This is where you'll find in-depth analysis on all major software providers in this niche. We have taken the time to research and compare their offerings inside out. And if you are looking to get the best BlackJack Mobile experience you are at the right place!
Live blackjack together with other live table games options are an exciting way to turn up the heat on your online gaming experience. Unlike their virtual counterparts, live gaming options allow you to test your skills against a professional dealer in real time.
All live games featured in the mobile casinos mentioned on our site are powered by top software brands such as NetEnt and Evolution Gaming so you can be sure that gameplay will always be of the highest quality.
For those who've never tried live Blackjack, we definitely recommend giving it a go. Experiencing all the excitement of an authentic casino experience through your screen is really something else!
Our selection of mobile casinos will provide you casinos with the best Blackjack games on the market. You can find both Android Blackjack and iPhone BlackJack App which are fully optimised for mobile.
It is also worth pointing out that US players do not have any mobile options for live Blackjack or any other games with live dealers.
BlackJack Mobile: Playability
We're happy to report that many online casinos are offering an iOS & Android compatible live casino app.
We would recommend using an iPad or a similar Android-powered alternative tablet for the best playing experience, but mobile phones such as the iPhone 6 or Samsung Galaxy also have large enough screens for this.
You need to understand that live dealer games are streamed in real time and thus require a significant amount of data to be sent and received. To avoid software lags and big phone bills, we always recommend playing while you are connected to WIFI.
Many casinos are also claiming that you will be able to enjoy a smooth playing experience while on a 3G connection. However, we've found this to work much more smoothly on a 4G connection or wireless network so keep this in mind to avoid constant freezes during your gameplay.  Nowadays, many online casinos support HD graphics even on their mobile platform so you'll be guaranteed a flawless casino experience no matter which device you use. 
Blackjack on mobile just keeps getting easier. Find out how easy Netent have made it: Credit: netent.com
Blackjack Mobile App for Android

If you own one of the latest Android powered devices there will be plenty of options to choose from. Evolution Gaming is our favourite platform for this, but Playtech also have a compatible solution.
Previously, most mobile casinos catered more predominantly to Apple devices. However, this has changed in recent years with Android smartphones and tablets improving tenfold and become a preferred option for many people.
With all the variety currently on offer, you can be sure to find loads of awesome casino bonuses for blackjack available from all Android devices.
Many people are now turning away from the once-coveted iPhone and turning their attention to its major competitor. Online casinos have realised this shift in trends and are now catering accordingly.
BlackJack  Mobile App for iPad or iPhone
Users of Apple-powered devices will have the most options to choose from and almost all live casino sites that have a mobile technology also have an installable application. The playing experience is not much different from that on an Android device though.
We recommend using an iPad over iPhone for live mobile blackjack, but if you own the iPhone 6 this won't really be a problem. The screen is large enough for you to have a great playing experience. A larger display is often considered a major benefit for many online casino players as it reduces eye strain and offers less margin for error than a smartphone screen.
However, a major disadvantage of playing blackjack on your iPad as opposed to your iPhone is that some casino sites have not yet been optimised for iPad. This means that the quality of the games on some sites may be lower as the casino games may be stretched to fit the screen. This can be quite annoying and is not an ideal way to enjoy online blackjack from your portable device.
Just make sure you read our casino reviews before to check which online casinos offer the best gaming platforms for iPads and tablets.
BlackJack Mobile with Evolution Gaming
It's not a secret that we prefer Evolution Gaming over any other live dealer blackjack software provider. This is true regardless of the device used for playing. They are one of the pioneers of the industry and seem to always be one step ahead of everybody else.
Our favourite sites to play their games are Guts and Unibet. All of these are already proven industry brands and offer much more than just live blackjack.

Betting Limits on BlackJack App
Playing on the go does not have to mean having to play for lower stakes. Most casinos, such as Unibet, have implemented similar betting limits for mobile users. So unless you are looking to wager tens of thousands per hand this won't be an issue.
Top Sites to get BlackJack on Mobile
Guts offer an Evolution Gaming live casino with 15 blackjack tables and a few platinum VIP ones. Users of iOS and Android will be able to play, but an app is only available for iPhone and iPad devices. Android live blackjack can only be played in browser at this time.
Unibet is definitely the most recognizable brand of all and offer live dealer blackjack from Net Entertainment and Evolution Gaming. Their live casino app is downloadable on their website and will provide you with access to Evolution's set of games. They are our only partners offering an Android compatible live casino app at the moment.
Those looking for high betting limits should also choose them, since these range from $0.50 to $25k per hand.
For more mobile blackjack offers, check out our list of top mobile casinos right here. Casinos only make it to our top spots after having met certain requirements and standards which we consider essential in any mobile casino.Our in-depth reviews will provide you with a thorough overview of what exactly each of these operators has to offer, in terms of bonuses, payments, customer support and more.
New Online Mobile Casinos 2018 for Blackjack Players  
This site is regularly updated to ensure that we keep you in the loop with all the new mobile casinos being launched as well as the offers and bonuses they have lined up for you.
Our team of casino experts are always on the ball, sniffing out all the new mobile operators offering blackjack, so you can expect even more state of the art features, awesome promotions and pure unadulterated blackjack fun in the coming year.
There has been drastic improvement in live dealer games on mobile platforms  in the last 3 years, but we still have a long way to go. Players from the United States looking for these on mobile are out of luck, while others do have a few options given they use devices running on Android or iOS.
We will keep on encouraging our partners, especially those working in the legal US market, to add these games in their portfolios and make them mobile compatible.
So make sure to follow us closely for many more blackjack treats coming your way!