Evolution Gaming Live BlackJack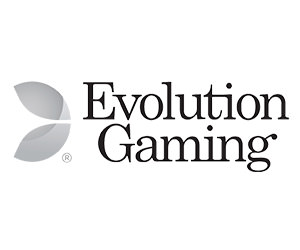 Evolution Gaming is one of the pioneers of live dealer casino technology and as we have said multiple times before, their products are of quality that no other company can match. The company works with some of the biggest online casinos, such as Guts Casino, and offers blackjack with favourable rules to players. The house edge in their game type is 0.49% and that's matching the industry average. To view a detailed comparison on different live dealer software providers visit our comparison page.
Due to legal hurdles, Evolution Gaming does not provide their software to any companies dealing with players in the United States. They do work with multiple brands that have a footprint in this region though. Should we see country wide regulation of online gambling, this company will be one of the first to seize the market.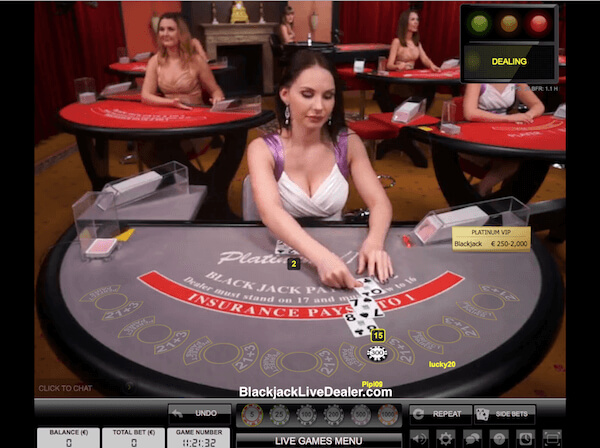 Drawing Rules
Here are the key points on drawing rules offered at the tables brought to You by this company:
Dealer stands on all 17, including soft (consisting of an ace and a 6). This benefits the players, as it decreases the house edge.
You are allowed to double after a split. Again, this benefits the players.
No re-split or surrender. Players cannot hit split aces.
8 decks of cards used, which is an industry standard.
House edge of 0.49% when basic strategy is utilized.
Side Bets & Features
Tables offer 7 individual playing seats, but due to high demand, Evolution Gaming have created a bet behind feature that allows unlimited number of players to play simultaneously. Note that You don't have a chance to make any decisions, when betting behind and have to trust judgement of player in the main seat.
There's also a quick decision feature that allows You to make Your move before the action is on. We see this as a great add-on for both sides involved. Players avoid waiting for the next hand and thus getting bored, while casinos are able to get more hands dealt per hour. Everybody wins.
Perfect Pairs
Betting on the perfect pairs in blackjack is very common in Eastern and Central Europe and those are the key markets for this company. This side bet is available at all tables in their portfolio and allow You to earn a payout of up to 30 to 1. Here's how it works:
Pair with mixed colours and suits like 10 of spades and 10 of diamonds – 5 to 1 payout.
Pair with the same colour, but different suits, such as 10 of hearts and 10 of diamonds – 10 to 1 payout.
Perfect pair, which is two cards that are of exactly the same value, suit and colour. If this happens, You'll get a payout of 30 to 1.
While these payouts seem great, perfect pairs is actually a sucker bet. It's the perfect revenue stream for operators and features a house edge of approximately 5.80%. In comparison to the 0.49% offered by regular "straight up" bet, this is more than 10 times worse. If You really want a shot at higher payouts, go play live roulette, where the house edge is around 2% and depends on the variation You play.
21 + 3 Side Bet
21+3 is less common in Europe and mostly played in the United States, since it's merging blackjack and a very popular game in the region – three card poker.
When You make a 21+3 side bet, You essentially predict that two of the first cards dealt plus the dealers card will form a winning combination of flush or higher. Here's a typical pay-table showing payouts for the Evolution Gaming 21+3 blackjack.
Suited Trips – 100 to 1
Straight Flush – 40 to 1
Trips – 30 to 1
Straight – 10 to 1
Flush – 5 to 1
Stream Quality
The stream You get when playing Evolution's live blackjack is of outstanding quality. It's fully HD and You do need a decent device and internet connection to experience the full greatness of this product.
We have never had any complaints about the quality of this stream, but are aware that there's often a small lag in game-play. Computer will sometimes show Your point score before the cards are actually seen. This sort of takes out all the excitement of it and we've already contacted the company, hoping to see a fix for this problem.
Blackjack Party
This is a unique offering that we have only seen offered by Evolution Gaming. These tables feature a laid back attitude, background party music and lower stakes. They are pretty much always full so your best bet will be to wait for a free seat and utilize the bet behind feature.
Bets start from $5 per box and 21+3 and perfect pairs side-bets are offered. This seems like the perfect game to play with your buddies on a Friday night, before going out and hitting the nightlife. Betting behind is available at all times and cannot be occupied by one player, but remember that all decisions will be made by the main player who is placing the main bet.
Platinum & Diamond Tables
There are more than 25 live blackjack tables available at most online casinos utilizing this software. They are divided into regular, platinum and diamond VIP tables. We absolutely love the feel of the latter two, as dealers are dressed up in special dresses and the tables seem to be less crowded.
Less people might be playing since the minimum wager at platinum tables is $250, while to feel like a diamond VIP, You will have to place at least $1,000 on a single betting box.
Mobile Play
Live dealer blackjack by this company can also be brought with You on the go – if You use an iPhone, iPad or an Android powered device. The playing experience is fairly decent, especially on the iPad. Though it's still a step behind to what is available on computers.
Casinos Offering It
When a casino offers live dealer games from Evolution Gaming, it's a sign of accomplishment and means that they have grown big enough to be relevant. Three brands just like this are Guts Casino, ExclusiveBet and Redbet Casino.
Both of these mainly target players in Scandinavia, but also hold a valid UK license and offer live casino solution created by EG.
RedBet already has a proven track record and they started as a small company back in 2002. Though they no longer are a small company after being bought by Bonnier Gaming Group, the level of service is still outstanding here. We love them for the fast withdrawal processing and generous 1st deposit and re-load bonus offers.
Guts Casino is lesser known and not really a recognized brand yet, unless You are a die hard fan of online casino industry. They just got bought out too and are now publicly traded on the Norwegian stock exchange. They too provide withdrawals that on average take less than 2 hours to be processed.
Nice extra touch with Guts is that their live dealer games are powered by two companies – Net Entertainment and Evolution Gaming. Even though the latter is truly awesome, it never hurts to have more options.