VISA Blackjack Sites
VISA blackjack sites are websites that offer real money blackjack games and accept payments using VISA products.
Live Casinos accepting VISA card:
Live Dealer Casinos
Markets:
Gaming:
Play now:
Each Casino reserves the right to cancel or change promotions at any time. Please refer to each Casino's T&Cs page for full details. New Customer Only. 18+. Please play responsibly.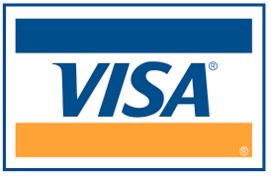 VISA is an American financial services company that operates around the world. The company is headquartered in Foster City, California. VISA is one of the world's three biggest financial companies, alongside MasterCard and American Express.
VISA's main function is to process electronic funds transfers via their branded credit cards, debit cards, and prepaid products. But VISA doesn't operate like other electronic payment processors, in that it doesn't actually issue any cards, offer any credit, or set and rates or fee structures for their cardholders. Instead, the company connects banks with their branded payment products. Those banks then extend credit, debit services, or cash access systems to their members.
Think of VISA as a credit franchise. Launched in 1958 as "Bankamericard," VISA was so unpopular at first that its founders literally mass-mailed thousands of working cards to random people. As insane as that sounds, the brains behind VISA had a good idea. In the 1960s, Americans needed a way to consolidate their various informal and formal lines of credit in one place with a simple interest rate and payment system. That's what Bankamericard, eventually renamed VISA, became. By its fiftieth birthday in 2008, VISA held a 40% market share of the massive US credit card market, and more than 60% of America's debit card market.
This page covers the use of VISA cards for making deposits and withdrawals at real money blackjack sites. On this page, we outline where and how to use your VISA card and answer the most common questions about VISA products.
Where You Can Use It
VISA is one of the most successful financial companies in the world. They serve millions of customers around the world, regularly reporting revenues in the billions of dollars.  VISA processes some 60 billion transactions a year, a number that's been steadily on the rise for the better part of three decades. That's all to say that you can use your VISA product anywhere you see the VISA logo at checkout, which turns out to be a huge number of shops. VISA is accepted at 29 million retail shops in the US alone.
Major caveat here – if you live in the United States or Canada, you won't be able to use a VISA product to send or receive payments to a gambling site. Purchases using VISA cards are tracked according to a universal code system called the MCC or Merchant Category Codes.
What Are MCCs?
Banks assign merchants one of these codes depending on what business they're in. VISA identifies online gambling operators as "code 7995." By the way, this code also extends to lottery ticket sales, the purchase of casino chips, and wagers at racetracks. Experienced gamblers will notice that all of these activities are usually blocked by US banks. That's the purpose of the code, to quickly identify an illegal purchase attempt and block it.
VISA's Policy
Though some games of skill may not be covered by the UIGEA bill, VISA isn't interested in testing the waters. Can you blame them? Their concern must be that they'll be caught funding an illegal wager after the fact and get into serious hot water with the US Department of Justice. According to information on VISA's website, customers are allowed to use their credit or debit cards for in-person gaming purchases at brick and mortar casinos. They're not allowed to make any type of online gaming purchase. Any charge that doesn't comply with federal regulations will be blocked – this includes everything from fly-by-night third-party cash advances to illegal online drug purchases. Basically, because VISA is monitored for compliance, they're not going to take chances by letting a customer send $10 to a blackjack site.
Can I Use a VISA Card Outside the US?
Take note that outside the North American market, many people are allowed to use VISA credit cards and other products to fund online gambling activity. Blackjack websites serving the European and Asian markets are happy to send and receive money using a VISA product.
How to Get a VISA Card
Getting any credit card is a matter of three things:
Demonstrating that you have a stable income.
Having a couple of years of credit history.
Having a credit score that meets a bank's criteria.
When it comes to VISA, your credit score affects your likelihood of being approved. We can put a score range on this, thanks to the fact that VISA has more than five decades of customer history to examine:
| | |
| --- | --- |
| Credit Score | Likelihood of Approval |
| 0 – 600 | Unlikely. (Try for a secured card.) |
| 601 – 700 | Average. (You have a good chance of being denied.) |
| 701 – 780 | Good. (You'll be approved for most VISA products.) |
| 781 – 850 | Guaranteed. (You can take your pick of VISA cards.) |
If your credit score is 601 or better, and you want to use a VISA product, you may be in luck. Follow the three steps below:
Pick a VISA product.
VISA makes a wide range of cards – products for small business owners, prepaid cards, specialty credit products, cards that make donations to charity, cards that offer cashback, and many more. The VISA product you choose depends on a number of things – your credit, the amount you want to spend, and any special needs you have. If you need help picking a product, you can call VISA and speak to a representative. If you're in North America, call 1 (800) 847-2911. Outside the US, call the number for your country as listed here.
Apply (online or by phone).
If you got help on the phone from a VISA rep, you may as well stay on the line and apply for the card. Of course, most people these days apply for their VISA on the Internet. You can do that here. The website's cool "Card Advisor" service will help you pick a card, though we still recommend talking to a live person if you are struggling to select a product.
Activate your card when it arrives.
Once you're approved for a VISA product, they'll have to mail you your card. When the card arrives, you have to follow the instructions printed along with your card to register and activate it before you can use it. At this point, your VISA product is ready to use anywhere you see the VISA logo. If you live outside the US, this includes some real money blackjack sites.
VISA Fees
VISA deposits to blackjack sites shouldn't cost you anything – at least not from the blackjack website's end. Depending on how you use your VISA, and which product you're using, you may end up paying a cash advance fee for funding your online gambling site. If you want to avoid this fee, contact the blackjack site's customer service department and see if this is a possibility before you make your transfer.
If you're allowed to use your VISA product to receive a withdrawal or any other payment from a real money online blackjack provider, you will most likely pay the site a fee for the privilege. These fees hover around 5% at all the reputable blackjack sites we've visited. This is a steep price, compared to other (free) withdrawal methods, but it is very fast compared to those methods, and so you should consider this a convenience fee. By the way, that 5% fee is capped, usually at around $10, so it's not like you're gonna be handing the casino hundreds of dollars if you happen to make a large withdrawal.
Conclusion
Though VISA deposits and withdrawals tend to carry higher fees than other methods, they're by far the most convenient methods for adding and withdrawing funds from an online blackjack account. If you've ever made a purchase at an online store or through a catalog, using your VISA credit or debit card to send money to a blackjack website will be really familiar. It's the same process, just with a different outcome.
Unfortunately, Americans and Canadians have lost all access to this method.  It's unclear when this situation will change – the UIGEA remains all but unchallenged, and attempts to regulate or outright ban online gambling (even online blackjack) are still underway. If you're an American or Canadian blackjack player and you want to make a deposit with your VISA product, you're out of luck for the foreseeable future.