Live Online Blackjack With Early Payout

Casinos have tinkered with the basic format of blackjack on a number of occasions, but these changes have never been as successful as the introduction of early payout. Early payout can now be found at many casinos, but they realized that live casino games could service more than one player per seat.
At first, this sounds like some kind of scheme to squeeze every penny possible out of their blackjack tables, but they managed to put the players' interests first. Like the name suggests, live blackjack with early payout gives you a chance to get paid without seeing your hand to completion. Here is how it works.
Page Navigation
Gameplay
The game starts like normal with the dealers giving two cards to each seat, and then two to themselves. The difference, though, is that each seat can host multiple players. To account for the fact that not everyone will agree with how to play any given hand, the casino takes the reigns. 
You are offered to play according to basic strategy, which is known to be the most viable way unless you are a math wizard and can track the deck and count cards.
Initially, the game was created so that everything would be out of your control: hitting, standing, splitting, doubling down, everything. Everyone was playing basic strategy and playing it right from a statistics point of view. Some players didn't like this, so a new interface was recently introduced at Celtic Casino. Players are now offered to choose between sound basic strategy and a play of their own choice.
Basic strategy decision will be coloured in green, thus inviting You to make the call while other decisions will be coloured in silver. You are always free to do whatever you want and other players can never affect the outcome of your play directly.
There really isn't a rational reason to go off the s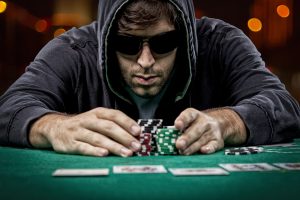 uggested course of utilizing basic strategy, but we do see many players often following their gut feeling. The latest addition suits all players and you are not forced into doing anything, which should be considered a positive thing for sure.                                                                                                                                                                                                    

T
aking The Early Payout
The size of your early payout depends on a lot of things. For example, how much money have you already wagered on your hand? What cards do you have and what is the dealer's card that you can see? If the hand is too close to call, or if you have a clear disadvantage, the early payout will be smaller than your original wager.
The casino expects to win, so there is no way that they are going to take a loss by paying you to take the easy out. But if you are in a strong position, the early payout can actually be worth more than your starting bet. The decision is always up to you and you will have to weigh the risk vs. reward for each situation. We can think of a couple of scenarios where players might be interested in taking the early payout.
The first thing coming to mind is a situation where You made a wager that is causing some discomfort due to stakes involved being a bit too high. Don't worry, we have all been there. The dealer might also have a high card, such as an 8, 9 or even a ten. You have 18 – 20 and would rather lock up a sizable win than risk having losing a significant portion of your bankroll.
Is Early Payout Blackjack a Good Thing?   
Some players believe that early payout takes the fun out of live online blackjack since they no longer have to make the basic decisions of the game. So does early payout ruin blackjack? Maybe, but then you could say that using optimum strategy, in general, takes the guesswork out of things. In reality, early payout blackjack is probably good for everyone involved.
It works out for casinos because they can take care of lots of players at a single table, all at the same time. Early payout takes care of the biggest logistical problem facing casinos that offer live blackjack, which is the fact that they are basically opening a real casino to an infinite number of players. Taking care of everyone can quickly become unmanageable.
At the same time, early payout blackjack should be great for players. Since the house is ensuring that your hand is played according to perfect blackjack strategy, the house edge is totally minimized without any effort on your part. Also, if things are not quite going your way, you at least have the option of taking an easy out without losing everything.
It is especially useful in a situation where you are playing at high stakes tables and you are looking to play for a long time, as it gives you that get out clause if you had made a hasty wager. If you have a couple G's on the table, a poor hand and the options for Early Payout, you will be thanking your lucky stars that you chose to play this game.
Although there is a couple negatives that we have pointed out below, we would certainly deem Early Payout games as a good thing to play.
Negatives of Early Payout
Although Early Payout, sounds good in theory, as it allows you take your money and run if things aren't going your way. However, of course, this can have an adverse effect if you call it wrong.
The key thing about early payout is not to panic, as although you might not look in a good stead at certain parts of the game, there is always to the possibility of the dealer going bust at any money. Depending on whether the dealer hits or stands at 17, should also alter your decision.
Again, as mentioned, some may argue that it also takes the fun out of the game a bit. This is due to the option dramatically lowers the risk and as such, the thrills too. Therefore, you like the high intensity of blackjack, these may be a bit lax for you.
However, regardless of any of these comments, if you like to play it safe, then you won't find any negatives to Early Payout.
Playing On Mobile
As is the case with most games in the modern age, the early payout game variation is available for mobile play at most casinos.
However, this is not to say that is the only place and you can be assured that at any casino that offers Early Payout Blackjack and a mobile version will let you amalgamate the two services.
Whatever device you use should not affect your service either, as most casinos support all formats of phone software. This means whether you are using, IOS or Android, a phone or tablet, you should be able to access the game as and when you want, wherever you are!
US Friendly Casinos Offering It
The situation with live dealer casinos in the US means that you only have a few legitimate brands to choose from in legal gambling states like New Jersey.
Our recommendation for US players interested in playing this game would be to research what casinos are available in their state and check if online casino will be allowed in 2020 onwards.  Online casinos such as 888 and bet365 operate in New Jersey and  have been around since the early days of online gambling and offer various ways to gamble for players worldwide. Although the design of their website can look a bit simple and old, be assured that gameplay and the services offered are to highest standards.
Unfortunately, due to the regulations in the United States, it limits the game selection and so niche options like Early Payout, fall by the wayside. However, you can find a selection of the best US Casinos, so feel free to browse them to find one that suits your needs.
Early Payout vs. Regular Game Types
Everyone is in a different spot, so You'll have to make a choice on Your own, but there's merit for both, avoiding early payout Blackjack and choosing to play it. What we don't really like is the low stream and playing interface quality.
In terms of the gameplay, it is definitely an interesting twist on the original and provides you the opportunity to save some money in tight situations. It may not have as many twists and turns as games such as Blackjack Switch or Surrender, but is simple and effective.
However, it definitely surpasses the option of the option of insurance that most tables offer, which has been overwhelmingly voted down in terms of the service it provides by countless blackjack players. Making it the best option for players who are hoping not to lose too much too soon when playing at a blackjack table. Playing high stakes with Early Payout is where the game really shines, as if you are on the verge of losing big bucks, early payout prevents this.
Although it doesn't surpass the thrill and excitement as other variations offered online, as well as in real-life casinos, it allows the option for players to take more control over the gameplay. They no longer have to go head to head with the dealer, wagering big amounts, only to lose it all with a bit of bad luck.
Overall
With Blackjack Early Payout, you really can't go wrong with the option it allows you to utilize. Essentially, you stand to minimize losses to the highest extent you can, and at the same time, the worse case is that you lose some of the suspense of the classic game.
Although this is a game more for the reserved then the risk-taker, it is still an alternative that is well worth a try, especially if you are running a bit low on account funds and want to take it a bit easy.
Regardless of your reasons, we would recommend this variation to anyone who wants to give something new a try.