Multi Hand Blackjack
Blackjack is a simple game of cards that is popularly played in both physical and online casinos. But, if you are an ardent fan of this game and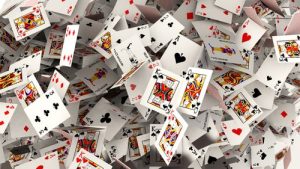 want more excitement from it, you should definitely try multi-hand blackjack, which is offered by many online casinos today. The basic difference between classic blackjack and multi-hand blackjack is that a player gets dealt with five hands to ten cards, instead of just one. However the aim, is similar to classic blackjack where a player has to develop a hand greater than the dealer's by getting a sum closest to, but not above, 21.
Page Navigation
Where to Play Multi-Hand Blackjack
Check out this list of our absolute favourite casinos to play multi-hand blackjack online.In multi-hand blackjack, you will be dealt up to 5 hands, which have to be played as individual hands, and make the best possible hand to beat the dealer. This variant of blackjack should ideally be played by professional or skilled blackjack players as novice players can find it difficult to handle the intricacies of the game.How to play Multi-Hand Blackjack
Rules of Multi-Hand Blackjack
If you want to play this exhilarating game online, here are the basic rules that you should remember.
This game is played with five complete sets of 52 cards each, as the number of hands dealt by each player can be anywhere between 1 and 5. The dealer, however, plays only one hand.
Number cards are valued as per their face value, picture cards are valued at 10 and ace can either be 1 or 11.
Blackjack is the highest hand, and a dealer's blackjack is higher than the player's blackjack.
In case of a tie, you get your wager amount back.
Doubling is permitted only when the sum of your cards is 9, 10 or 11 and re-splitting is not allowed.
As in the classic version of blackjack, a dealer has to stand if he has a soft 17.
This variant of blackjack does not have the 'surrender' option, which is used in classic blackjack.
Types of Multi Hand Blackjack
There are many types of multi-hand blackjack that can be played on the internet. In addition to the Classic blackjack, some of the popular variants of this game include multi-hand Atlantic City blackjack, multi-hand European blackjack, multi-hand Spanish blackjack and multi-hand pontoon blackjack.
Multi-hand Blackjack strategies 
The first thing to keep in mind is that multi-hand blackjack should ideally be played by experienced blackjack players as amateurs may be overwhelmed handling so many hands at once. The second thing to consider is your bankroll, as you would be placing more than one bet in every round.
Card counting is the most popular blackjack strategy that can also be used in multi-hand blackjack. You can learn more about card counting from the internet. Furthermore, you should also consider the type of multi-hand blackjack you are playing and develop your strategies accordingly. As the house edge in this form is a low 0.59%, you should look for a site that offers competitive bonuses on this game and make the best of it by using effective strategies.
Best Online Casinos Offering Multi-Hand Blackjack
Playing Multi-hand blackjack online could not be easier nowadays thanks to the wide array of online casinos offering this variant. In fact, you can check out the current best online casinos right here and discover more about what they offer in terms of bonuses, payment options, customer support and much more.
We make sure to refresh this list regularly, so you'll always be up to date on the latest online blackjack operators on the market.
Pros of Playing Live Multi-hand Blackjack
Fancy a little something different from your standard online gaming experience, you need to try out live blackjack! Live games make use of professional casino studios, experienced dealers and real time live streaming to provide players with the ultimate brick-and-mortar casino experience without requiring you to step out your front door!
Playing Multi-hand Blackjack on Mobile 
It's now super easy to get all your multi-hand blackjack gaming thrills conveniently from the smaller screens too as most online casinos now offer fully functional mobile casino platforms. This allows you to play your fave games from virtually anywhere, whether at home, at work, or on the go!
Multi-hand Blackjack Dealer Options
Once players have got their chance to act on all of the hands played, the dealer must then take their turn to play. The dealer's options are pretty much the same as those found in standard blackjack game. Dealers must stand on any hand of 17 or more and hit on any hand worth 16 or less.

Building up optimal multi-hand blackjack will provide players with the opportunity to play safer and longer. This is especially important in cases when several independent hands are played at the same time, as the gameplay goes quite quickly, and some people play more impulsively.
Multi-hand Blackjack Strategy
If you want to keep playing for longer, the trick is to perfect the best multi-hand strategy. When you're playing several hands at once this is especially essential as impulsivity is more common and gameplay goes more quickly.
However, playing up to 5 games at once can actually work out in your favour, as long as you are using different strategies for each hand. To put it into perspective, one of your hands might be cautious while the other is aggressive. Keep in mind that the dealer will continue drawing cards regardless of your choices, until the number 17 is reached, since they must abide by this rule. Players have the advantage of using different strategies and finding out which one will suit them best.
Another point to take note of is insurance. Players may take out insurance on all hands just in case an ace has made its way into the dealer's hand. You also have the choice to split in case of a pair of face cards. To turn the odds in your favour, your best bet would be to keep one hand with a pair of face cards as 20 and split the other.
Multi Hand Blackjack FAQ
Check out our list above for more information on the best online casinos offering Multi hand blackjack as part of their game lobby. By reading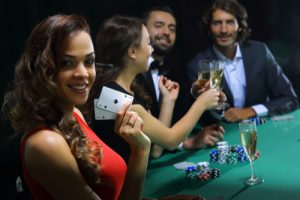 our in-depth reviews, you can get all the details you require to make an informed decision about which site is best for you.
Can I Play Multi Hand Blackjack in Live Mode?
Of course! Nowadays, most online casinos offer the option of live table games such as blackjack, roulette, poker and baccarat in several variations, as well as tables for both high rollers and players on a budget. Live games are a great way to get some authentic gaming thrills from playing blackjack online.
How Can I Learn the Best Strategies for Multi-Hand Blackjack?
Follow our strategies above to hone your skills and take your multi-hand blackjack skills to the next level. All it takes is a little time, practice and patience, and you should be able to get playing like a pro in no time at all.
Is it Possible to Play Multi-Hand Blackjack from my Smartphone or Tablet?
Yes! The advances in mobile technology over the past few years has made it standard practice for many online casinos to offer their players a seamless mobile casino platform to enjoy games like multi-hand blackjack when out and about too.